I am a craft supply hoarder. Sometimes I have so much stuff that I can't find what I am looking for and end up going and buying more (tell me i'm not the only one!) I totally need to a take a page out of these ladies books and start getting organized! I love all these ideas and can't wait to get going on some of these super simple and beautiful projects!
Rebecca over at The Crafted Sparrow used tin cans which we all probably have laying around our house and washi tape to make these gorgeous and practical organizing cans!
Mari over at Brown Betty Style figured out a way to not only get all of her fabric scraps out of the dark bottoms of boxes and drawers and into a beautiful easy to find container system!  If only I had the patience for all that folding!
Erin over at Neaten your Nest had the genius idea of storing all that construction paper in an office organizer. This has to be the biggest "duh" moment for me because I am currently storing all my paper in stacks and inevitably always want the one that is on the bottom of the stack!  This would eliminate this problem all together!
Better Homes and Gardens always has the most beautiful spaces highlighted and this basement work area was no exception.  I love the idea of having all my wrapping paper up off the floor, out of the closet and on display!  This will most definitely be making an appearance in my own craft room!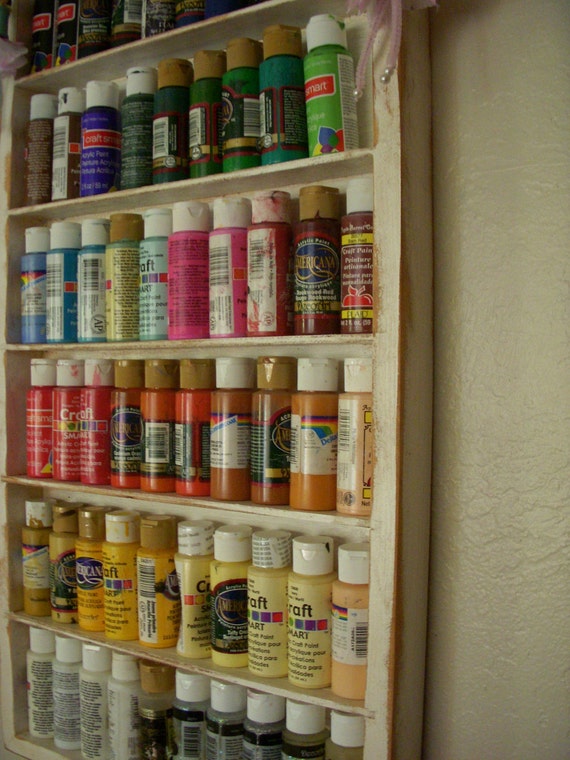 This shelf is the perfect way to store all those paint bottles that you have lying around in bins, boxes and on shelves.  This way you can see everything you have and keep it up out the way!  This one is for sale on Etsy, but I bet with a little elbow grease you could make your own too!
I love the idea of repurposing old crates and dresser drawers and these ones are such a fun, vintage spin on that.  I am sure that you could find an old dresser at a thrift store and steal just the drawers out of it to hang on the wall!  This image came from Design Mom, featuring a home tour of Natalie Wright.
And once you have the drawers pulled out you can do like Jayna over at Yankee Drawl and turn that empty dresser into an awesome shelving unit.  She used her for her daughters book collection, but I can see so many other uses in a crafting space!
 Patchwork and Craft in Portugal turned a hairdressers toolbox into a wonderful way to transport her sewing supplies wherever she goes.  My mom's group gets together every couple of months to have a craft night and I have something very similar that I use to bring my latest projects with me.
Good Housekeeping always has the best ideas and this one is no exception!  I love the idea of attaching lids to the bottom of the shelf to maximize every inch of storage space possible.  Also when they are filled with lovely things like these it is a wonderful mix of fashion meeting function!
Pretty Handy Girl created this fantastic way of storing all those paintbrushes so that they aren't all smushed up together and they are able to dry the "right" way.  I also love the pencil block because I can never seem to find a pencil when I need one!