Once we were all done learning the elements of art it was time to learn a little bit about the different art movements through history.
Because Picasso and Cubism are so crazy I think they are a great place to start. I like to vary our projects between easy and challenging so that no one gets too discouraged or is to bored.  I started off with a brief overview of what Cubism is and a couple examples of what it looks like.
Cubism
Cubism was invented around 1907 in Paris by Pablo Picasso and Georges Braque.

Cubism was the first abstract style of modern art.

A Cubist painting ignores the traditions of perspective drawing and shows you many views of a subject at one time.

The Cubists introduced collage into painting.

The Cubists were influenced by art from other cultures, particularly African masks.

There are two distinct phases of the Cubist Style: Analytical Cubism (pre 1912) and Synthetic Cubism (post 1912)

Cubism influenced many other styles of modern art including Orphism, Futurism, Vorticism, Suprematism, Constructivism and Expressionism.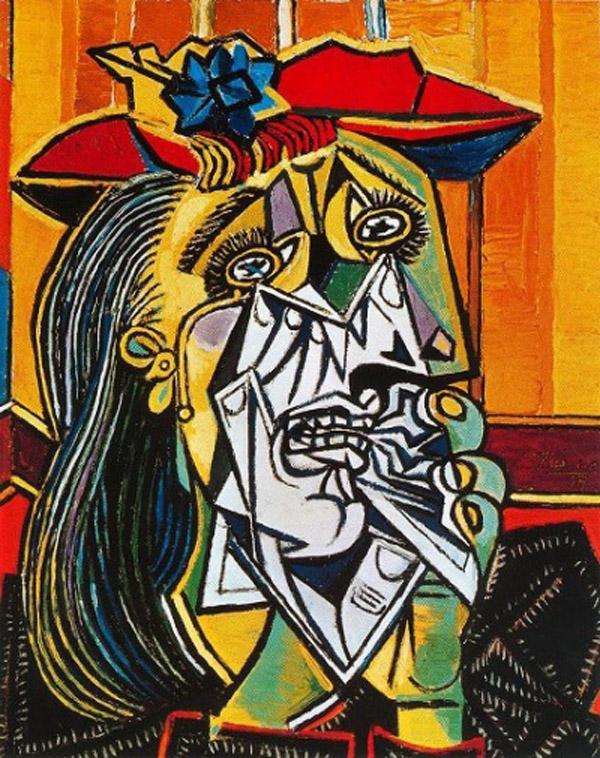 After learning a little bit about the style it was time to share what we would be doing.  I always like to start by sharing the rubric so that they know exactly what they will be graded on.  No secrets here!
Start by cutting your face shape out. I told my students to cut one half as though they were looking at the face straight on, the other half as though from the side.
Then cut out your facial features. You'll need two eyes, a nose and a mouth. When you get to the painting part, one eye will be looking straight at you and one will be a side view. Keep this in mind as you cut them out. You already have a silhouette of a nose cut into your face shape so you'll only need to cut out the straight one. For the mouth I made only a straight on view, but you could definitely do a silhouette if you wanted.
Now you construct! Start gluing your facial features in to your face. I wanted our faces to be a little more 3D so I had the kids pick some parts to layer up to 4 layers high.  We used good old fashioned white Elmer's glue and the pieces stayed together no problem, so don't worry about needing fancy glue or even a hot glue gun.
One they are dry it's time to start painting! I had the kids paint different abstract and geometric sections in bold color over the whole face. They painted exaggerated eyes and mouths, and then went back and added the black borders between colors.
A couple of things I learned:
Cardboard is not easy to cut. Adult sized, sharp scissors are a must! Also, it's easier the clean up frayed edges after its all cut out than cut it perfectly the first time.
Taking the time to paint all the edges black is annoying and time consuming, but it makes a HUGE difference! I found a medium sized brush (one that fits just right in the corrugated slots) makes the job a little less awful.
We used generic Crayola tempera paints and they worked great! The yellow definitely needs two coats though.